MeBIC partner New American Economy has released a new report showing the importance of international students to the U.S. both economically and culturally.
International students not only provide crucial tuition payments to U.S. higher education institutions, and economic contributions to the towns and cities where they live while studying, but they are critical to the pipeline of new U.S. workers and entrepreneurs, particularly in STEM fields as the graphic below from the report shows clearly.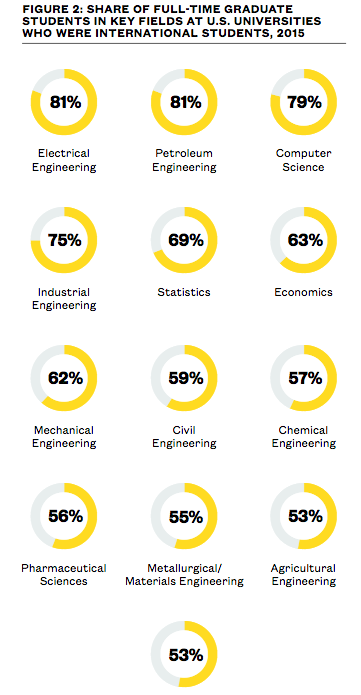 As the U.S. takes steps that will effectively drive many international students out of the country, other countries are actively courting international students.   As the report notes,
America's competitor nations have already set ambitious targets to widen their share of the international education pie. Canada set a target to have 450,000 international students by 2022, up from just 136,000 in 2001. Meanwhile Japan, long a country ambivalent to foreign nationals, set a target of 300,000; Germany, of 350,000; and China, of 500,000, all by 2020. Each represents at least a twofold increase—notably, a tenfold increase for Germany—over their 2010 numbers.

China, Canada, and Germany all met their targets early, and Japan was only 1,020 students shy of its goal by 2018. China is building out its university system, and reaching quality in some scientific fields at its top universities that is comparable with the average U.S. university, says Choudaha. China today is luring greater numbers of students from Africa and Asia, many of whom may not have been able to afford to study in the United States.
For decades, international students have helped the U.S. be an innovation leader and economic powerhouse, bringing new ideas and energy to our nation, while at the same time, serving as ambassadors of the U.S. with their home countries.
The NAE report shows data compelling the conclusion that restricting international students to the U.S. is against our economic, social and political interests.   You can read the report here.